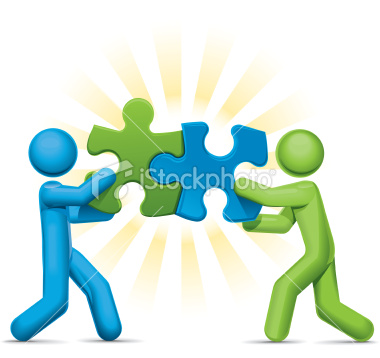 When two or more people work together on a project in order to promote their services together, they form what is known as a joint venture, also known as a JV. This can be on a digital product, such as an e-book or MP3 recording or it can be on a tangible product. Joint ventures are a great way to increase your business and gain new customers.
When you work on a JV, you will be able to offer your current customers a new product; you can also attract new customers with your joint venture product. For instance, if you have a website targeted to people that would like to start a home business, you can team up with a successful virtual assistant and create an information product that explains how to start and manage a successful VA home business.
Your current clients may never have known what a virtual assistant was; and people who were specifically looking for information on becoming a virtual assistant, but didn't know about your website, may now find you, simply because you are offering that product. Plus, you can become an affiliate for other products a virtual assistant might be interested in, and offer those products to your clients as well.
For instance, someone who is starting a virtual assistant business may not realize the importance of having a website. You can create a small report that explains the benefits a website will bring and include your affiliate links for a website builder or hosting company. Perhaps you can form another joint venture partnership with a web designer and they can help you write the report, or possibly offer you a commission per lead affiliate program.
Using the above example, if you wanted to create an information guide on becoming a virtual assistant, you could seek out successful VAs and send them an email with some information about the project you are seeking a partner for and ask if they would be interested in working with you. You can also find message boards and forums that are devoted to the work at home community and post a message letting people know what kind of joint venture you are seeking a partner for and ask if anyone is interested or knows someone that may be interested, in partnering with you.
Once you have a list of potential people to work with, you can start interviewing them. You'll want to make sure that your personalities mesh, as you'll be spending a bit of time working together. You'll also want to make sure that they are competent and serious about their business. You will be relying on them to meet you half-way; you don't want to get stuck doing all the work.
When you find the right person to team up with, working on joint venture projects can be fun and profitable. They can bring your business to a whole new level.
Do you need perspective and guidance with your social media?  If so, why don't you complete this questionnaire that will provide me insight into your goals and objectives – we can schedule a one hour call that will make a huge difference to your social media results.
About Ana Lucia Novak: We offer Do It For You, Do It With You, Do It Yourself social media management services: Social Media Strategy, Setup and Implementation, Monitoring and Measurement; Content Publishing and Distribution; Best Practices and Technical Training for professionals, executives, HR, Recruiters, Sales, Marketing, Business Development; Teams and Interns in the B2B, B2C, Nonprofit's, Finance and Start-up's.